THE 4 MOST FREQUENTLY ASKED QUESTIONS ABOUT OUTSIDE GAS FIREPLACES
| Are you thinking about having a gas fireplace installed outside? Good idea! But at the same time, it also raises questions. For example, do you need a fixed gas connection for this or do you use a separate gas bottle? And perhaps even more importantly: can you just install any gas fireplace outside in your covered area or is only a special outdoor fireplace suitable for your outdoor space? We are happy to answer these most frequently asked questions!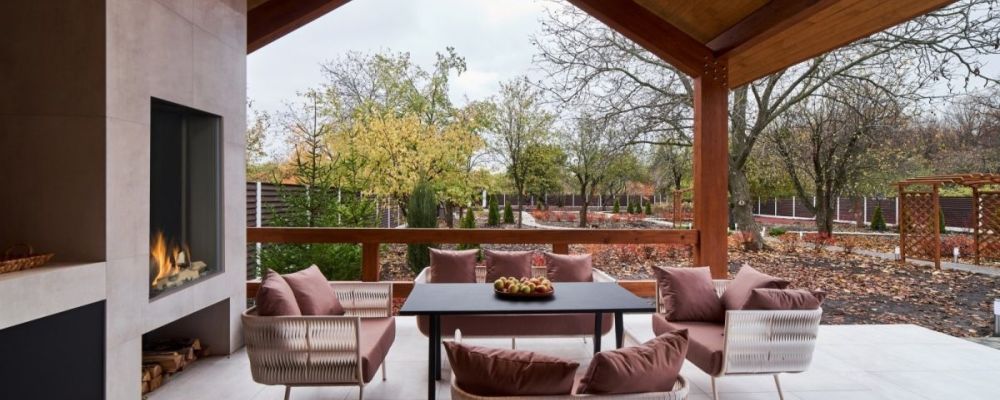 1. Why choose an outdoor gas fireplace and not a wood-fired one?
The main reason for choosing a gas fireplace outside is ease of use and not creating smoke that will bother your neighbours. You only need a gas connection or a full gas bottle; the rest will take care of itself. Firelighters and wood are no longer necessary and you are always assured of a beautiful flame display. Keeping the fire going is also not an issue; as long as the fireplace is on, you can be sure that the fireplace will continue to burn. And are you going back inside? Then you can switch off the fireplace with just one click. And perhaps the most important advantage of a gas outdoor fireplace: you don't have to worry about smoke because the fireplace has a cleaner combustion process.
2. Do I use a gas bottle or a permanent natural gas connection?
Just like an indoor fireplace, an outdoor fireplace can be connected to the fixed natural gas network. If you have an existing home with a gas connection, it is possible to connect the fireplace to this network. For many new homes, it's a different story, as more and more new homes are being built completely gas-free. In that case, you can opt for an outdoor gas fireplace in combination with a separate bottle of propane gas. You then can enjoy the same beautiful fire and the same warmth for a surprisingly long time. Please note: you must store these propane bottles in a separate room with adequate ventilation; such as a shed or special fire-resistant storage box.
3. Can any gas fireplace be placed outside or should I opt for a special outdoor fireplace?
If you opt for an outdoor gas fireplace, we always recommend selecting a gas fireplace that is specially designed to be outdoors. After all, there is more moisture in the air outside and 'regular' gas fireplaces are often not resistant to this. That is why at Element4 we have a special collection of outdoor fireplaces that are equipped with a stainless-steel frame. Our outdoor fireplaces also have a so-called waterproof box. A gas fireplace contains the necessary technological components, including the remote-control receiver, the fireplace switch and the LED lighting. This equipment is located under the fireplace and must be in a watertight enclosure. With a regular built-in fireplace, these areas are not completely water and moisture-proof. As you surely understand: the combination of electricity and a humid outdoor environment can be dangerous. Thanks to the waterproof box, the electrical components are well shielded. That makes a special outdoor fireplace from our outdoor collection a more sustainable and safer choice!
4. Does a gas fireplace for outdoor use require more maintenance?
In principle, a gas fireplace for outside requires no more maintenance than a gas fireplace for inside. In both cases it is a good idea to clean the window(s) of your gas fireplace a few times a year, both on the inside and on the outside. It is important that you proceed carefully and read the instructions to prevent damage to the window. It is also wise to replace the batteries of your handheld remote control every year. Batteries that are left in for too long can leak and that can affect the electronics of the hand-held remote. In addition, it is best to schedule the first maintenance service within one year of installing the gas fireplace. With regular maintenance you are assured of a safe gas fireplace that lasts longer and has fewer malfunctions. And the outside of the fireplace? It will undoubtedly get dirty a little faster in an outdoor environment – especially if your terrace or patio has an 'open' character. In that case, you can clean the fireplace regularly with a slightly damp cloth. Have you opted for anti-reflection glass? Then it is best to clean it with our own cleaning agent. In general, the following applies: always be extra careful in the presence of any grains of sand; you don't want to accidentally damage the window.
We hope we have answered all your questions! Curious about the outdoor gas fireplaces we have in our range?
Check them out via the button below:

News & tips

Learn about the options and be inspired!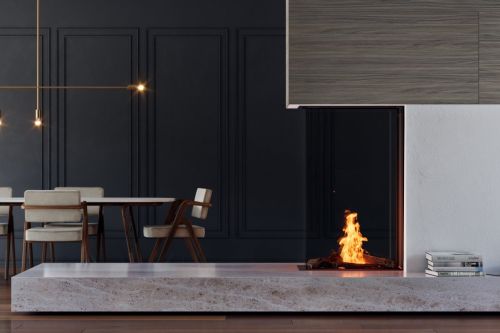 News
How will you heat your home this fall?
Although it is still a bit warm in the Netherlands and the rest of Europe, the "-ber" at the end of the month has returned. In a few weeks, you will no longer be able to avoid using your heating. But how are you going to heat your home this fall? With a wood fireplace, a gas fireplace or with one of the latest bio-ethanol fireplaces? We are happy to show you what options Element4 has to offer and help you make the right choice for your home!
Learn more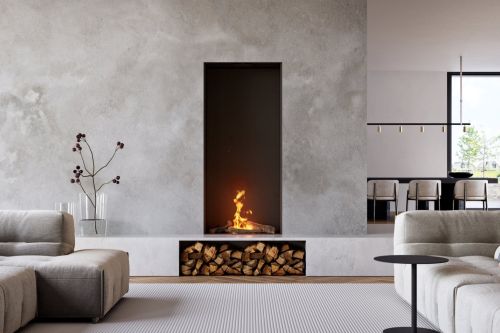 News
Sensational newcomer at Element4: the Bio Ethanol fireplace!
There it is... our breathtaking new range of fireplaces: the Sky series in Bio Ethanol variant! A true innovation and unique in its kind thanks to the double burner with an unparalleled flame picture! Curious about the properties and possibilities of this new sensation? Then read on quickly.
Learn more
The fireplace that is perfect for you!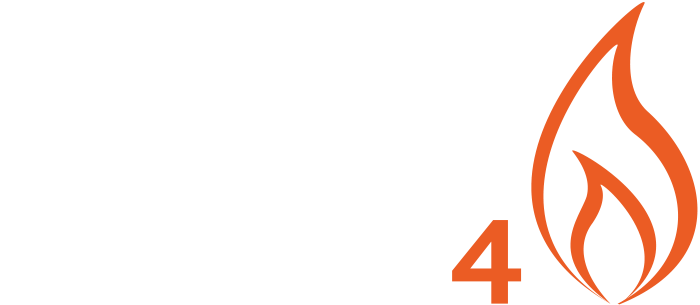 Free tips and discount promotions