TAKE A LOOK INSIDE: SEE WHO ELSE HAS CHOSEN AN ELEMENT4 FIREPLACE!
| Recently we have seen several beautiful fireplace installations from satisfied customers. Of course, we are excited to share these with you! They are a great way to get inspiration for a built-in fireplace in your interior. Here are some of the most striking recent installations.
1. SKY T SHINES IN A BEAUTIFULLY RENOVATED MONUMENTAL BUILDING
Landgoed Singraven is located in one of the most beautiful parts of the Netherlands, in the middle of the Twente landscape. Last year, a monumental barn was transformed into a beautiful farmhouse at this location. For the interior, the residents of 'Erve Loman' opted for a mix of authentic and modern. An attractive fireplace was, of course, essential.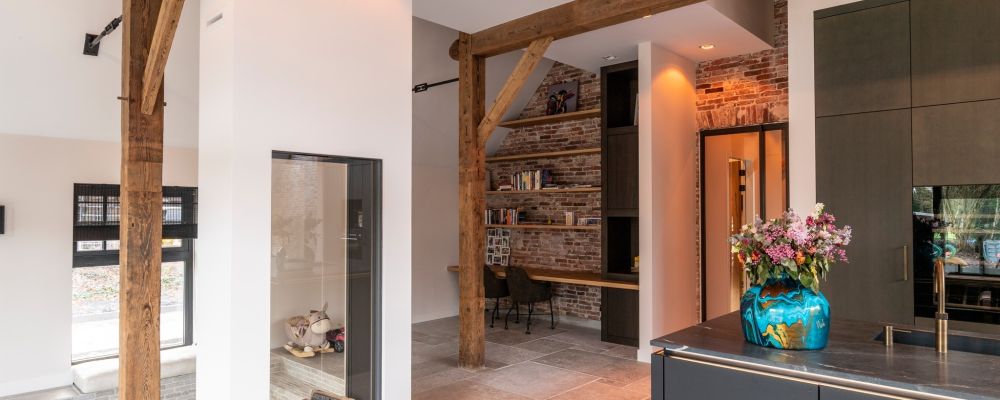 Photo: Aannemersbedrijf Warmes

A STUNNING CENTERPIECE...
Our beautiful Sky T plays a central role in this unique building. The see-through model creates a warm, atmospheric ambiance throughout the home. In this way, the residents can experience the crackling fire from different rooms. Pure enjoyment!

2. SUMMUM 190 IN A STYLISH HOUSE IN DORDRECHT
This stylish house is located right in the centre of Dordrecht. It offers the perfect balance between new and old elements. The Summum 190 fits seamlessly with this balanced interior because it combines its very realistic flame display with a modern design.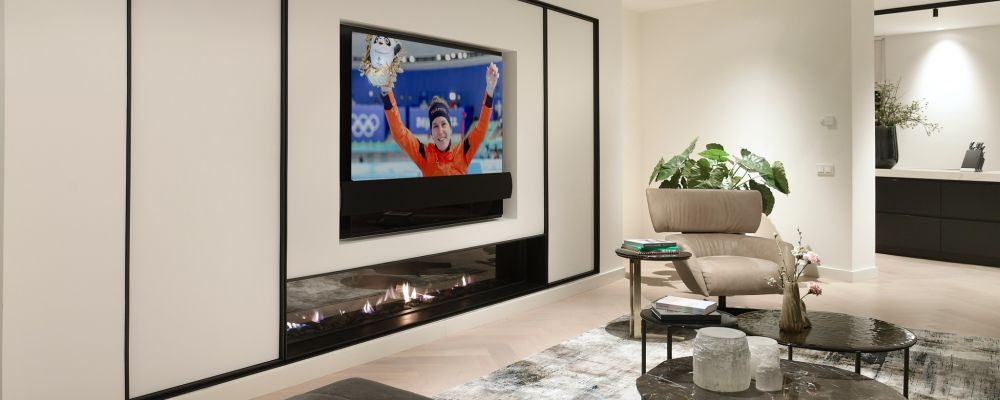 Photo: The Art of Living Magazine
COMBINING A FIREPLCE AND TELEVISION? THIS IS HOW IT'S DONE!
We are often asked whether a fireplace and television can be combined attractively. This installation is proof that it is possible! The fireplace-TV combination is not only stylish, but also saves space and creates the ideal setting for optimal relaxation and enjoyment. Bravo!
3. FINALLY: OUR SKY L T OUTDOOR FIREPLACE IN A LUXURY COUNTRY HOME IN FLEVOLAND
The owners of this luxurious location in Flevoland know better than anyone how to create the ultimate outdoor lounge area. With an outdoor kitchen, dining and relaxation area and an attractive outdoor fireplace, this can rightly be called a 'high-end country retreat'. They can now enjoy this outside area late into night!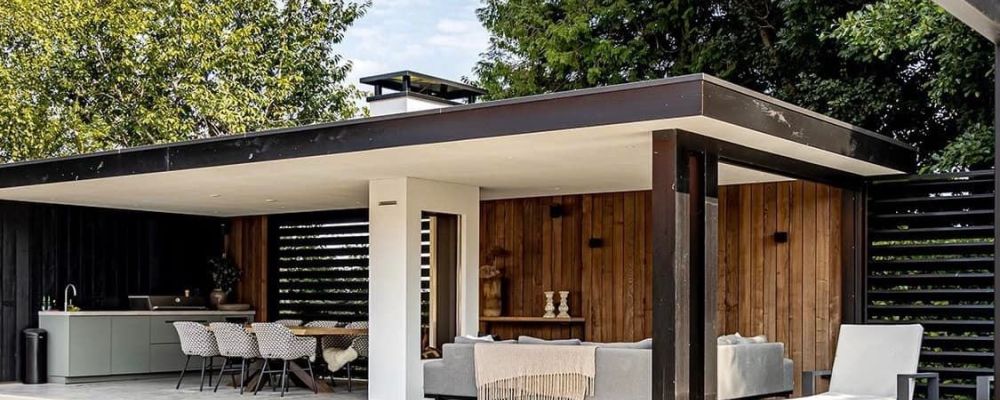 Photo: Warmtestore Your Fireplace Specialist
WHAT MAKES AN OUTDOOR FIREPLACE DIFFERENT FROM AN INDOOR FIREPLACE?
Although our outdoor gas fireplaces may look almost the same as our indoor fireplaces, there is indeed a difference between the two types. For example, in the outdoor fireplaces stainless steel frames are used to prevent rust and there are specially 'wrapped' burners that are moisture resistant. An outdoor fireplace will therefore last just as long as an indoor fireplace!
News & tips

Learn about the options and be inspired!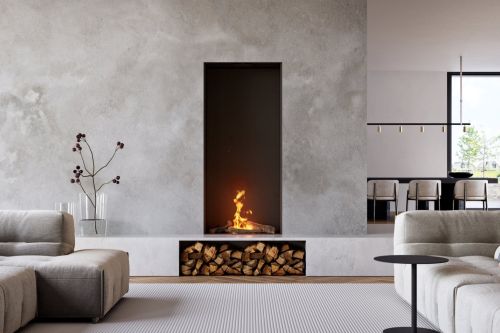 News
Sensational newcomer at Element4: the Bio Ethanol fireplace!
There it is... our breathtaking new range of fireplaces: the Sky series in Bio Ethanol variant! A true innovation and unique in its kind thanks to the double burner with an unparalleled flame picture! Curious about the properties and possibilities of this new sensation? Then read on quickly.
Learn more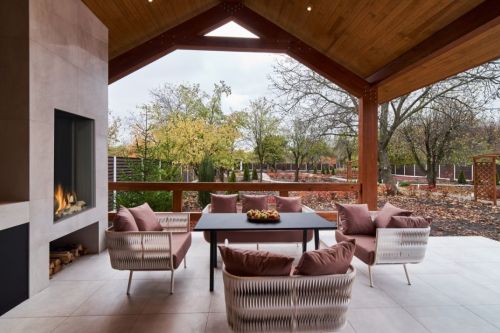 Tip
THE 4 MOST FREQUENTLY ASKED QUESTIONS ABOUT OUTSIDE GAS FIREPLACES
Are you thinking about having a gas fireplace installed outside? Good idea! But at the same time, it also raises questions. For example, do you need a fixed gas connection for this or do you use a separate gas bottle? And perhaps even more importantly: can you just install any gas fireplace outside in your covered area or is only a special outdoor fireplace suitable for your outdoor space? We are happy to answer these most frequently asked questions!
Learn more
The fireplace that is perfect for you!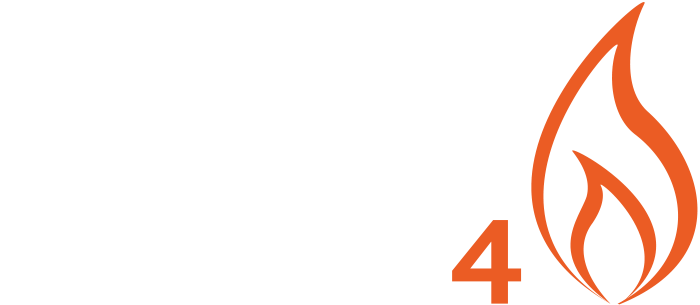 Free tips and discount promotions