AN ELECTRIC BUILT-IN FIREPLACE: WHY SHOULD YOU CHOOSE IT?
| More and more people are considering an electric built-in fireplace as an alternative to a wood-burning or gas fireplace. This choice is understandable, especially for newly built homes which are often energy-neutral and gas-free. But why should you choose an electric built-in fireplace? Here we give you four good reasons to consider!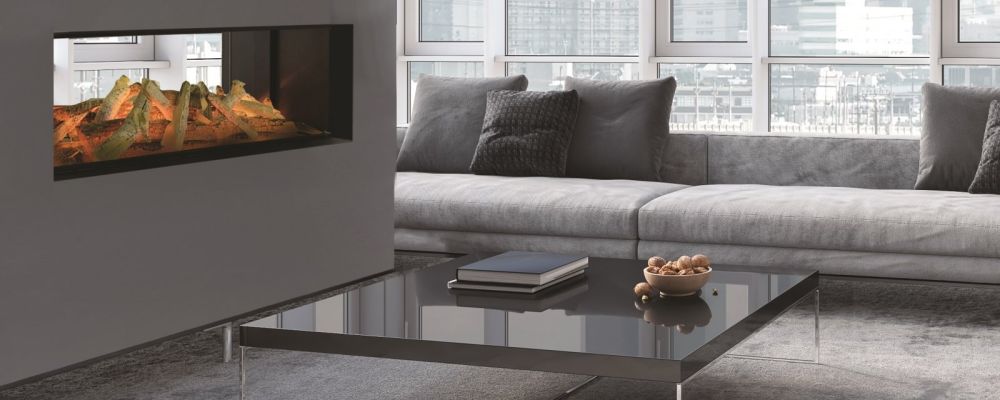 1. ELECTRIC BUILT-IN FIREPLACE: ADDITIONAL HEATING OR MAIN HEATING?
The most important question when purchasing an electric built-in fireplace is: "What is the purpose of the fireplace?" If you want to use the fireplace purely as decoration, then an electric fireplace is an excellent choice. You can also use an electric built-in fireplace as an additional heating source, for example in combination with underfloor heating. Each Element4 electric fireplace comes standard with built-in heating from 0.75 to 1.5 KW. Do you want to heat the entire room with a built-in fireplace? Then a gas fireplace is a better choice for you. This is possible even if you do not have a gas connection in your home because our gas fireplaces can be equipped with a separate bottle of butane or propane gas.
2. WHAT ABOUT THE SPACE?
The installation options in your room can also determine whether you should choose an electric built-in fireplace. If you only have a limited amount of space available, then you often have a few more options with an electric built-in fireplace. After all, no flue is required for an electric fire and often that can make a real difference with a shallow installation depth. If you still can't decide between an electric fireplace and a gas fireplace; please let your Element4 dealer help you make the right choice. Our gas fireplaces also have a shallow installation depth and with our so-called "PowerFan" they are easy to install in various locations in your interior. Your Element4 dealer can discuss the options with you and show you what the possibilities are in your interior.
3. WHAT KIND OF FLAMES DO YOU EXPECT?
Another important consideration when choosing an electric fireplace is the flame display you have in mind. An electric fireplace uses various optical means to create the effect of real flames. The electric built-in fireplaces from Element4, for example, have Ultra HD LED technology with a realistic effect of hot ash in the fire media. In addition, our fireplaces are equipped with special non-reflective glass for an extra beautiful view. Do you want to enrich your room with an attractive fireplace that still gives the feeling that a fire is crackling, without any real flames involved? Then the electric built-in fireplace is a great choice! Are you looking for a lifelike flame display with the warmth that you are used to from a traditional fireplace? Then you would probably prefer a gas fireplace.
4. ELECTRIC BUILT-IN FIREPLACES FROM AN ENVIRONMENTAL STANDPOINT
Do you have an energy-neutral home or have you recently installed solar panels on your roof? Then an electric fireplace is an even more attractive choice. This way you can use the energy you have already generated for your built-in fireplace and you save on gas costs. That is precisely why many people with a new or energy-neutral home choose an electric fireplace from Element4. Saving gas or living gas-free and using your solar panels efficiently – it's ideal right?
Convinced that an electric fireplace is the right choice for you? Then please take a look at the different models in our collection:

News & tips

Learn about the options and be inspired!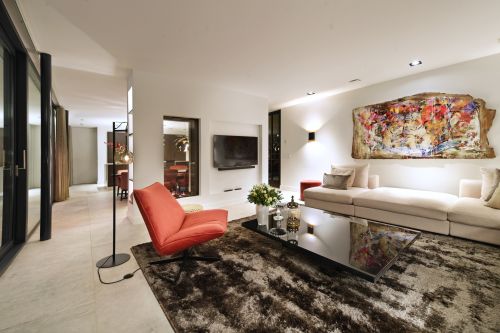 News
SKY LT featured in brand new luxury villa in Limburg!
Our SKY LT gas fireplace shines in a brand-new modern villa in Limburg. The residents opted for a see-through fireplace in a room divider, creating an open connection between two rooms. Moreover, they can enjoy the beautiful flames from both sides! We are proud to show you around this stylish villa!
Learn more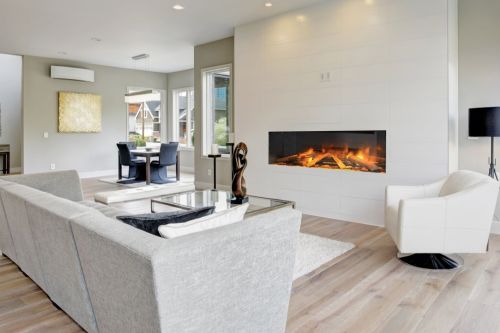 News
Electric built-in fireplaces: sustainable and beautiful!
Are you considering to buy an electric built-in fireplace? Or are you the proud owner of a sustainable newly built home and would you like to enjoy an attractive fireplace in a responsible manner? Then an electric built-in fireplace from Element4 is the right choice for you. We are happy to explain why...
Learn more
The fireplace that is perfect for you!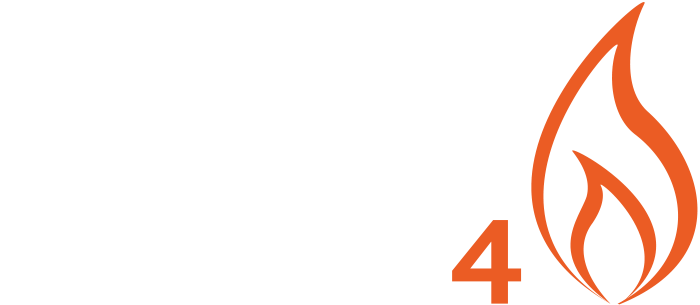 Free tips and discount promotions