Warm winter evenings with Element4
| It's early December. Temperatures are dropping, and in most households the central heating or underfloor heating is already set at a cosy 20 degrees. Yet many people feel they are missing something right now… That old-fashioned fireplace, a heat source you can sit in front of with a steaming cup of coffee. Fortunately, nowadays it is very easy to bring the warmth of a fireplace into your home ...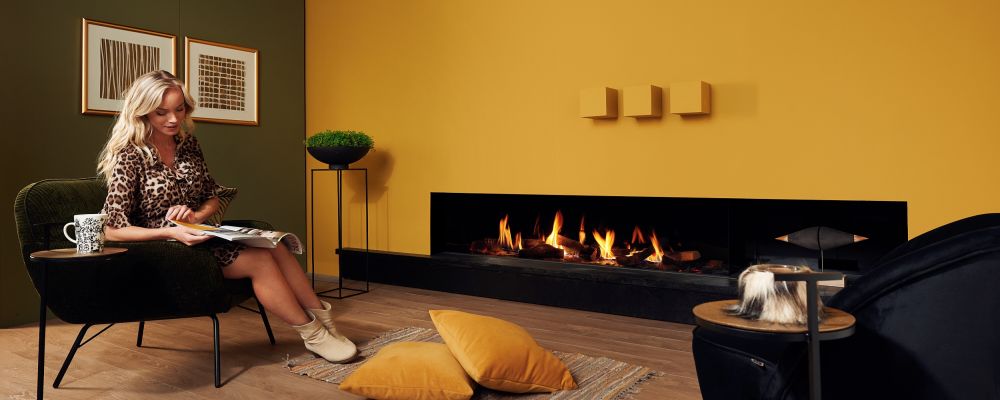 It Can be installed in every home!
Have you always thought that a fireplace is not possible in your home? Chances are we have an option that makes it possible. At Element4 we work with the so-called "Powerfan". This smart solution allows for a diversion of no less than 30 metres within the flue and it regulates the correct settings for the air supply and exhaust. This way you can install a gas fireplace almost anywhere in your home. And if you have limited space available, this is not a problem either. Many of our gas fireplaces have a built-in depth of just 25cm!
Gas-free living is no longer an issue...
Do you have a completely gas-free newly built home? You can still choose a fireplace from Element4. In that case, your fireplace will not be connected to the gas network, but to a gas cylinder with propane gas. This way you no longer need a fixed gas connection. (If you prefer no gas at all, check out our electric fireplaces.)
The ambiance of an authentic fireplace
At Element4 we see it as a challenge to get the most out of our fireplaces. Our gas fireplaces always create an atmospheric flame display, regardless of the power at which the gas fireplace is running. This way you can enjoy a beautiful fire at any time, even with the lowest possible gas consumption. And do not forget: in our range you will find various fireplaces with beautiful, realistic wood blocks that really seem to glow. Combined with subtle LED lighting and the effect of hot ash in the fire media, a surprisingly realistic image is created!
Pleasant warmth
All our fireplaces form a "closed system". This means that the fire is not in open connection with the room, as the fireplace is completely closed. This is not only safer, but also ensures heat retention in the fireplace. In addition, the burners can be adjusted as desired, so you can determine the intensity of the fireplace. Warm and comfortable winter evenings are guaranteed!
Curious about our fireplaces? Take a look at our beautiful collection of gas fireplaces. You'll surely find some inspiration for your own living room!
News & tips

Learn about the options and be inspired!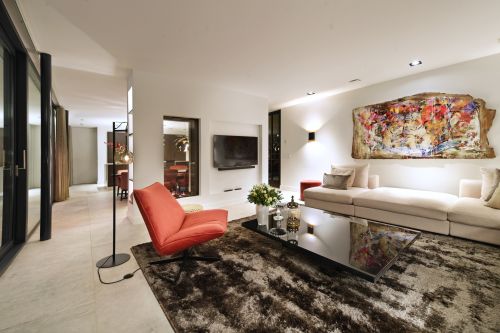 News
SKY LT featured in brand new luxury villa in Limburg!
Our SKY LT gas fireplace shines in a brand-new modern villa in Limburg. The residents opted for a see-through fireplace in a room divider, creating an open connection between two rooms. Moreover, they can enjoy the beautiful flames from both sides! We are proud to show you around this stylish villa!
Learn more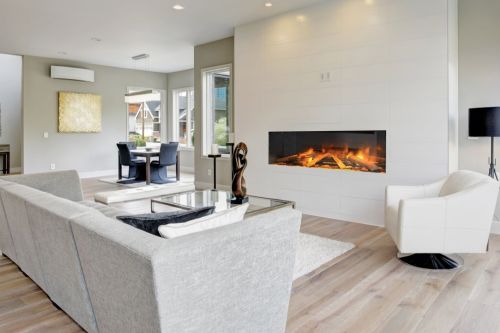 News
Electric built-in fireplaces: sustainable and beautiful!
Are you considering to buy an electric built-in fireplace? Or are you the proud owner of a sustainable newly built home and would you like to enjoy an attractive fireplace in a responsible manner? Then an electric built-in fireplace from Element4 is the right choice for you. We are happy to explain why...
Learn more
The fireplace that is perfect for you!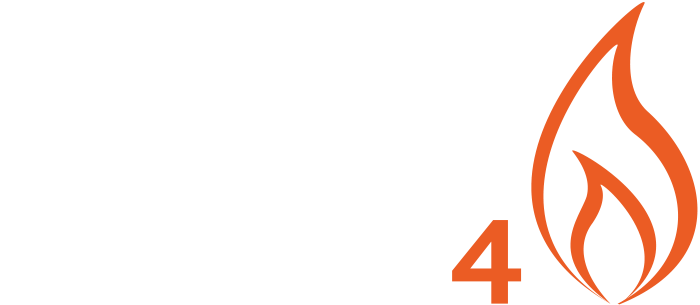 Free tips and discount promotions