SKY L T spotted in new edition of The Art of Living!
| Our gas fireplace SKY L T shines in the latest September edition of the home and lifestyle magazine 'The Art of Living'! This fireplace is an eye-cather in a brand-new villa in Abcoude in Utrecht. The residents opted for a see-through fireplace that separates the space, but also connects the two areas. And more importantly, they can enjoy the beautiful flames of our SKY L T in two places at the same time. Curious? Let's take a look!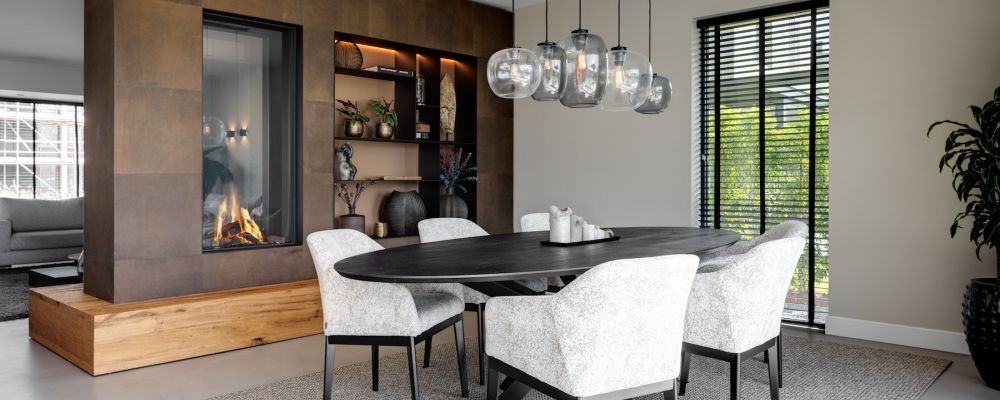 A different point of view
The brand-new villa in picturersque Abcoude was built by contractor Veldman Pouw. The interior is made according to the design of Elke Straatman and tastefully furnished and decorated with designer items. Our 'own' SKY L T really stands out in this new setting. The residents of the villa were pleasantly surprised by the design fireplace: ''when Elke came up with this idea for the fireplace, I thought: Yes, that is it! Now we can also put the television in a logical place.'' The SKY L T is therefore not only beautiful and warming, but also functional.
Warm, modern atmosphere
''The wall of the fireplace is covered with dark brown leather, just like the side of the wall in the dining area'', explains home and lifestyle magazine The Art of Living. ''The elongated vertical see-through fireplace also provides a nice view of the kitchen and the garden overlooking the meadow.'' Thanks to the beautiful flames of the design fireplace, you can instantly create a warm, modern atmosphere in a newly built villa. But the fireplace also ensures that the space is both seperated and connected.
Would you also like such a beautiful see-through fireplace in your home? Check out our SKY L T!
News & tips

Learn about the options and be inspired!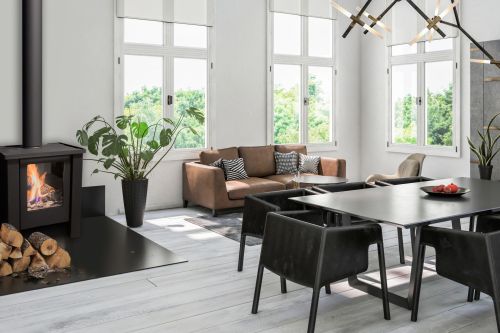 News
The KUDOS and OVATION: now available in gas!
The Club Kudos E and the Club Ovation E have become popular additions to our electric fire range - Reason enough to also introduce a gas variant of these beautiful fires.
Learn more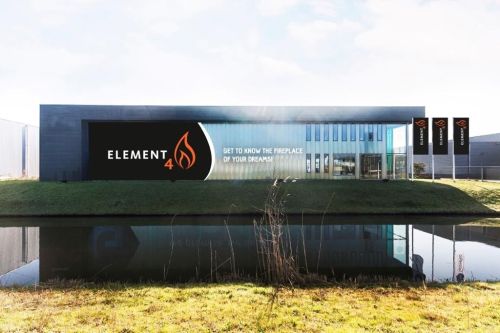 News
ELEMENT4 IS MOVING!
We have some great news; we will be relocating to a new address! From January 1, 2022 you will be able to find us at our beautiful new premises, located on the Simon Stevinweg in Zwolle. With a spacious warehouse, practical logistics layout and plenty of room we will be able to offer our dealers and consumers an even better service!
Learn more
The fireplace that is perfect for you!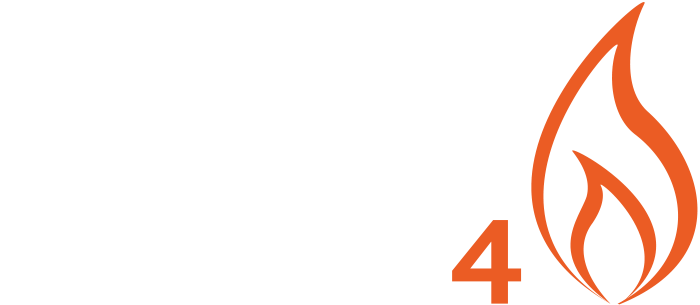 Free tips and discount promotions