Discover our outdoor collection!
| Do you want to sit comfortably outside at any time and enjoy extra long summer evenings on your terrace or balcony? Then choose the the outdoor gas fires from Element4. Outdoor fireplaces of Dutch origin, created by design lovers and true bon vivants, just like you!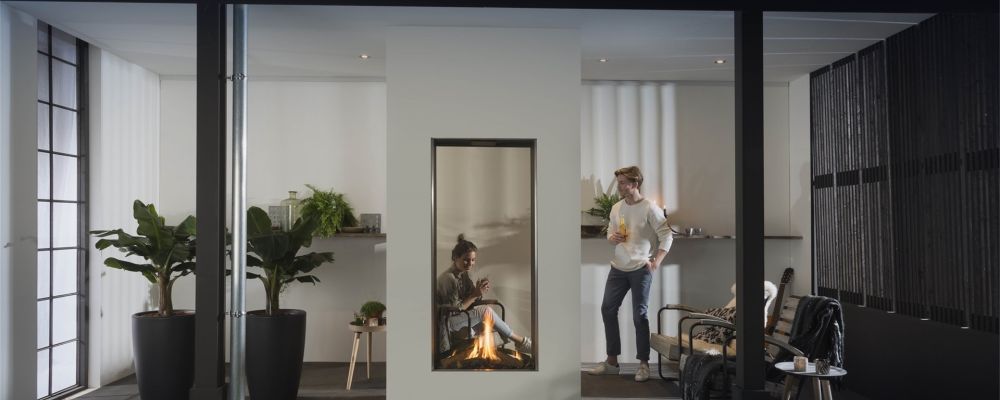 From front fireplaces or see-through fireplaces to club fireplaces with LED technology; with our new collection of outdoor fireplaces you are assured of beautiful design and optimum ease of use. As you would expect from us, this collection is also particularly easy to maintain and space-saving thanks to a minimal installation depth of just 25 centimetres. Moreover, with an Element4 gas fireplace you always benefit from the most beautiful fire on a low setting.
The advantages at a glance:
Atmospheric flame picture, even on a low setting! Enjoy an atmospheric flame picture, regardless of the setting of the gas fireplace.
Also suitable for a smaller garden or terrace. Thanks to the minimal installation depth of only 25 cm, you can also enjoy an outdoor fireplace in a smaller garden, lounge area or covered terrace.
Your outdoor fireplace can easily be operated with your Smartphone or tablet from wherever you are sitting.
Put together the outdoor fireplace that is perfect for you!
Our collection of outdoor fireplaces is available with different rear walls, such as a black glass rear wall or a classic rear wall with a nostalgic stone motif. In addition, you can have the outdoor fireplace equipped with anti-reflective glass. This prevents annoying glare from incidental light rays and is virtually invisible. Even when the outdoor fireplace is switched off, you cannot see the glass. The Element4 outdoor fireplace comes standard with a wood set as a fuel bed. This realistic wood set consists of large and small fake branches made of ceramic, specially intended for use in the gas fireplace. You can also choose other materials such as: white Carrara pebbles, white stones or gray stones. This way you can create the outdoor fireplace that is entirely in line with your personal taste and wishes!
Interested? Then get to know our entire collection with outdoor gasfires!
News & tips

Learn about the options and be inspired!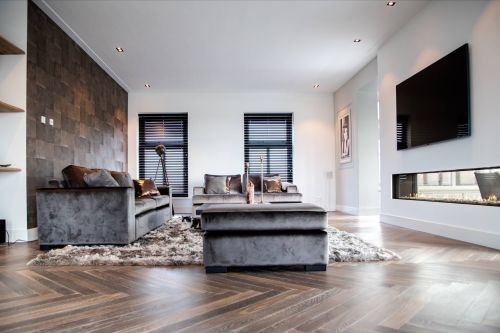 Tip
A gas fireplace and tv in the same wall? No problem!
You can already see it: enjoying an attractive display of flames and their cosy warmth and at the same time dreaming away with your favourite TV series. Having a TV and gas fireplace in the same wall is a dream combination. But what are the most important considerations when installing a TV and gas fireplace in the same wall? Here are 4 things you must keep in mind!
Learn more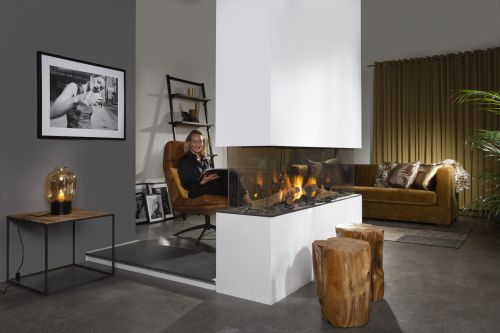 News
Presenting the spectacular Summum 140 4 / S
Have you always dreamed of a fireplace with a view of the fire from all sides? You no longer have to wait; because here it is! Unique in the market and unique in your interior!
Learn more
The fireplace that is perfect for you!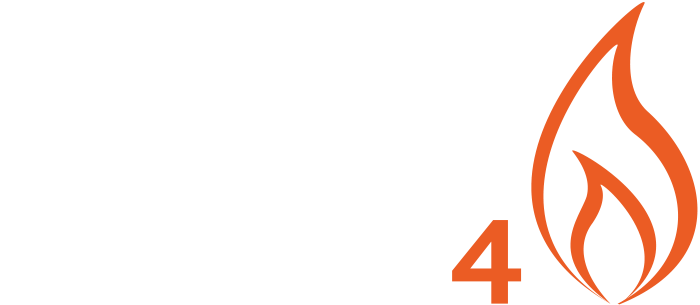 Free tips and discount promotions