A modern fireplace in your interior? Discover the possibilities!
| Are you looking for a fireplace for your interior, but uninspired by the stuffy, old-fashioned fireplaces you've seen? Are you dreaming of a modern fireplace that enhances your interior and provides pleasant warmth and atmosphere? Then you should choose a fireplace from Element4. We are happy to take you on a journey through the most beautiful installations of modern fireplaces in real interiors ...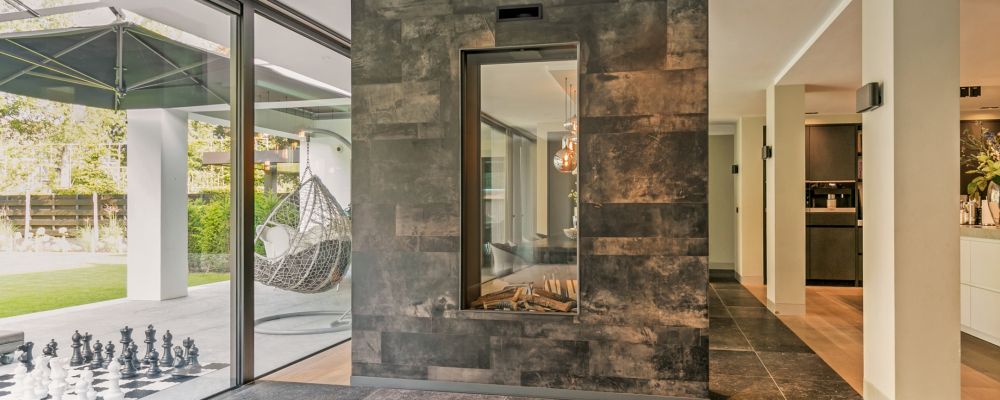 Modern fireplace as a room divider
A wonderful example of a modern fireplace is the characteristic room divider. This stylish centrepiece in the interior splits up the space; but at the same time provides connection. A room divider is not only beautiful to look at, it also offers various advantages, such as:
- Optimal heat output; you can enjoy the warmth on both sides
- Open connection between two parts of the home.
- More atmosphere and cosiness in larger spaces.
This type of modern fireplace is therefore a very smart choice if you are already looking for a way to create a separation in your room. And where a regular room divider closes the room, a gas fireplace ensures an open connection, thanks to the large glass section. So, if you are looking for a modern fireplace that really stands out and with which you can create a separation between two rooms, a room divider is the right choice for you!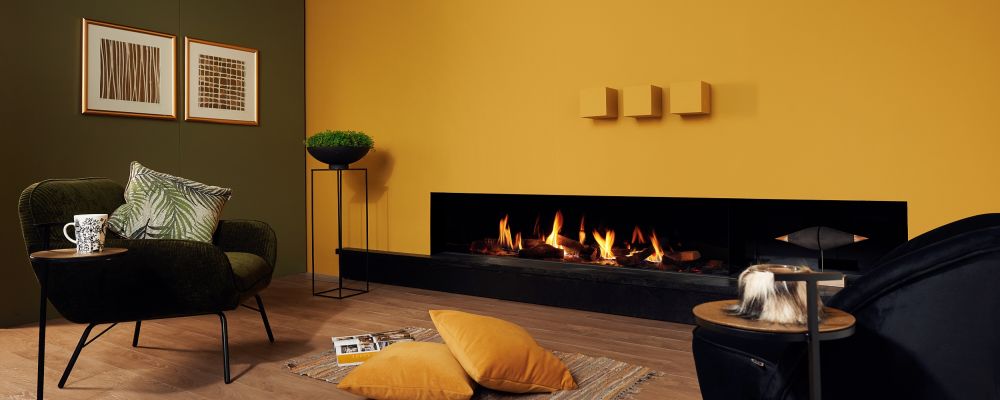 An extra-wide modern fireplace
Looking for a modern fireplace with a modest height that still has a prominent presence? Then choose one of our extra-wide modern fireplaces, such as our new Summum 190, the Tenore 240 or Modore 240. Each one of these extra-wide fireplaces offers a wide view of the flames, wonderful heat output and fantastic flame display. In practice, these wide fireplaces are often placed under a TV because they have a low height, something that is essential for the combination of a gas fireplace and a TV. If you want a modern fireplace that has a considerable width, does not take up too much height and can easily be combined with a TV, then the Summum 190, Tenore 240 and Modore 240 are the best options!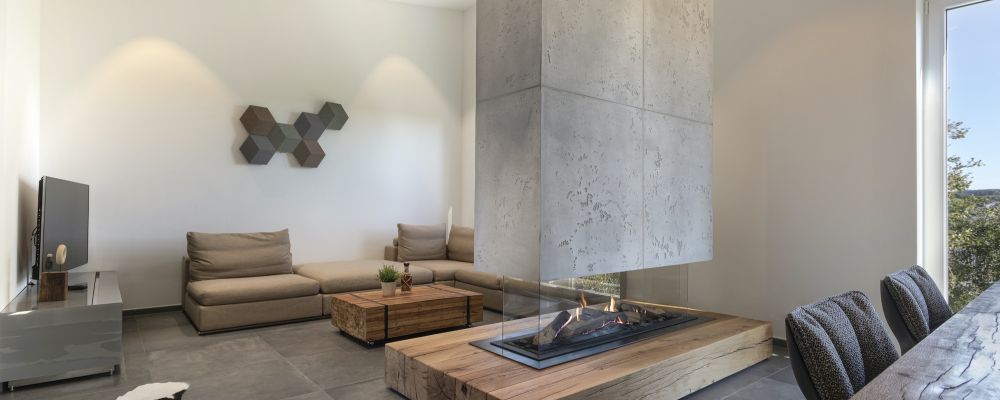 A modern 4-sided fireplace
Do you prefer a bold interior with unique furniture and statement pieces? Then our newest 4-sided fireplace is sure to appeal to you. As the name suggests, this modern fireplace offers a view of the flames from all four sides. This is not only particularly beautiful, but also extra comfortable: after all, you can enjoy the heat released from all sides. Because this fireplace is 4-sided, an almost "transparent" effect is created. Properly placed, this fireplace almost seems to float. In short, it's a unique modern fireplace that gives your interior its own character.
Of course, we can show you many more examples. Are you interested in such a modern fireplace from Element4? Visit your nearest dealer or download the brochure here!
photocredits:
4-sided fireplace: Ruegg Studio Freudenberg / David Muhl | Extra wide fireplace: eigen foto | Room divider: Vestia Kachels | Photo below message: Danny de Groen - Studio 'OW
News & tips

Learn about the options and be inspired!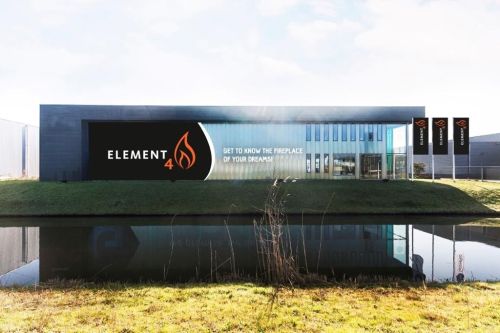 News
ELEMENT4 IS MOVING!
We have some great news; we will be relocating to a new address! From January 1, 2022 you will be able to find us at our beautiful new premises, located on the Simon Stevinweg in Zwolle. With a spacious warehouse, practical logistics layout and plenty of room we will be able to offer our dealers and consumers an even better service!
Learn more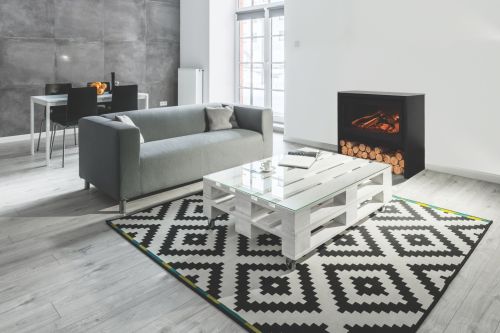 News
ELECTRIC INNOVATION: THE CLUB KUDOS E
Would you like to be able to enjoy the lovely warmth of a fireplace? But you don't have a gas connection and only limited space? No worries! Our new Club Kudos E offers you everything you're looking for: it's electric, freestanding, and easy to move!
Learn more
The fireplace that is perfect for you!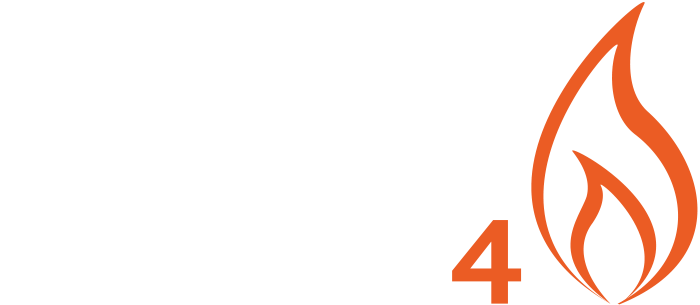 Free tips and discount promotions